#WontGiveItBack has been trending since before the start of the World Cup, even when many did not expect India to come close to defending their title. Coming off the back of a disastrous Australian tour and thrashing at the hands of soon-to-become-a-laughing-stock English squad too, many critics and pundits did not expect the Indians to pose much of a challenge to favourites Australia, South Africa and Sri Lanka. Oh and how gloriously they had been proved wrong!
Seven wins on the trot. The team grew with confidence after each win. Taking apart their opponents systematically and ruthlessly, they marched forward in their campaign to retain the World Cup. They defeated the South Africans & West Indians with as much ease as they took care of minnows Zimbabwe and their quarter-final opponents Bangladesh. The same Indian pacers that are used to being ridiculed for their ineffectiveness were now standing shoulder to shoulder with the Australian & Kiwi quickies. Each batsman, even the much-criticized opening duo of Sharma and Dhawan, had gradually come into their own as the tournament progressed. More than anything, Dhoni's marvelous captaincy and tactical knowledge of the game was showcased through each performance of the team. Here was a man who may have been just past his peak as a batsman but still had the most to offer to the team. He brought out the best in Mohit, Umesh, Jadeja, Raina, Rahane, to name a few, when the team needed it the most!
When Australia's first innings ended at 328 following a blistering century from Steve Smith and a painful to watch yet most-needed 81 from Aaron Finch, both teams would have been happy to have these runs on the scoreboard With Maxwell having found his touch and wickets in hand, it seemed as though Australia were set for a 400+ total. However, some smart captaincy and tight bowling ensured that barring Mitchell, the target did not go out of reach before the second innings started. Australia, on the other hand, knew that they had a bowling lineup capable of defending this target and were lucky to get those extra 20 runs from Johnson's late cameo that could have made all the difference at the end. Unfortunately, India never put up enough of a fight for us to know. That is of course not to say that they never put up one at all. They most certainly did. India should be happy knowing that they did not give it back, that it was taken from them most respectfully by a slightly superior team on a certain day.
They got off to a great start scoring 75-odd runs without the loss of a wicket in the first twelve overs. Both openers looked like they were in control of the match but alas! That was not to be the case. When a whole nation's hopes rest on you, its not easy to play the innings of your life and Virat Kohli learnt that lesson the worst way possible today. Raina and Kohli struggled while Rahane, Rohit and Dhawan could not convert their starts into something substantial against arguably the greatest current pace attack of the world. The greatest compliment I could give to MS is that even when 133 was needed off 60 balls against the deadlyAustralian bowling line-up, just him being there at the crease gave hope to 1.2 billion odd people glued to their television sets. Hoping against hope, India has seen him do this before but even the great MS Dhoni is just a man and even he is capable of failure. It will not be right to say that MS Dhoni or India lost this match, just like saying South Africa "choked" two days ago.
Australia was just the better team. Maybe if India had won the toss or if Rahane's wicket had not been referred, the result may have been different. We can never know. We can just take solace in a great overseas performance by a great team led by a great man. Personally, I have never been a fan of MS Dhoni. His calm demeanor always deceived me and misled me as a lack of passion for the game compared to Mahela's desperate appealing from the slip position for a caught behind, no umpire in their right mind would give. Since hate is too strong a word, I most certainly disliked the same man who hit "that" six to give India only its Second World Cup Trophy since 1983.
Why, you ask? Personal bias, mostly.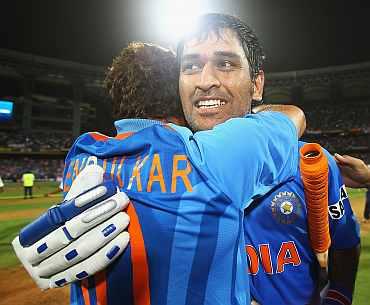 His inclusion in the team meant that my favourite cricketer, Dinesh Karthik missed out and better cricketer or not, that was just plain unacceptable. Of Course, I am not just a fool governed by emotions and loyalties, and I hated the fact that he exercised a great control over team selection. He insisted on sticking with the players he wanted in the team, like Raina, who would be given far more chances than their performances warranted resulting in youngsters like Saha and Kulkarni not getting enough chances to cement a place or display their talent. His dismal away form just confirmed my naïve musings on his failure as a captain and wished they'd just pass on the mantle to Kohli in ODIs too before it was too late.
I have called him lucky, arrogant and stubborn among many other things. Despite all this, I begrudgingly respect the man who has come from a small village in Ranchi and given India World Cup glory. I have always respected him as a player. One of the greatest finishers in the world, as the matches against West Indies and Zimbabwe showed, his cool demeanour under the helmet is exactly what's needed when chasing a total, big or small. He has made this country sigh in relief and celebrate with joy countless times clearing the boundary with a huge heave and with so much ease, you'd think he doesn't practice anything but sixes in the nets. While I cannot forgive him for being a better wicketkeeper, batsman and asset to the team than Dinesh Karthik, I can thank him for reminding me that it's okay to be wrong and dislike a person and still enjoy watching him bat and score the winning runs with a humongous six. Whether he will lead the team four years later too, we can only speculate and wait, and hope.
But till then, there is only one thing we got to say – Thank you, Mr. Dhoni – Thank you for making this nation dream.